Happy Sunday! Have you seen today's
Google
Banner in honour of Audrey Hepburn's 85th Birthday?! - WOW I'm in love!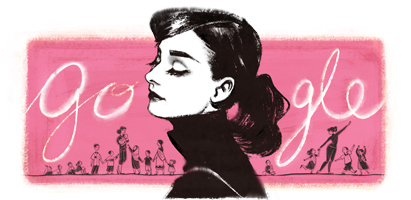 1. Who do you call when you need to vent?
Usually bestie and or best friend, both two very different people with completely different views and advice on life lol! Or I turn to Twitter!
2. Where do you go when you need alone time?
Most of the time it's my bedroom, but I practically live there anyway! Or the library!
3. What is your favourite alone time activity?
Reading and or listening to my iPod! Also baking, marathon-ing my fave shows and movies!!
4. What is something we should all stop and read right now?
5. Who do you wish would read your blog that doesn't already? Family? Celeb?
I'd actually be really weirded out if I knew that my family (and even friends for that matter) read my blog, I like that I have this private little world away from everyone, you know?
As for celeb hmmm, I think I'd like Mindy Kaling to totally stalk me here, she's my fantasy best friend LOL!
What is your favourite alone time activity?
Do you have any book recommendations?