WARNING: Contains spoilers.
Last week I shared my favourite TV proposals and this week I have my fave Movie proposals for you!
Ultimately I would love to be snuck into Tiffany's and told to "pick one!" but I think I'm more laid back and casual and would love a proposal in bed, just the two of us (with a big speech a la Mr. Darcy!)
Ian & Toula -
My Big Fat Greek Wedding.
[.]
This is simply the cutest, and probably my most favourite - he asks her, without a ring, while they are in bed enjoying each other's company. I love it because it is so intimate and sweet and I always get goosebumps, especially because he get's so nervous!
Ian: "I don't...I don't really know how to say this..."
Jamie & Aurelia -
Love Actually.
[.]
The entire town marches with Jamie as he searches for Aurelia. When he finds her at the restaurant he reveals that he has learnt Portuguese and professes his lover for her. She in turn reveals that she has learnt English and accepts!
Jamie
: [in Portuguese] "I've come here with the view of asking you to marriage me..."
Johnny & June - Walk the Line. [.]
Johnny and June are on stage when he puts her on the spot by refusing to finish their song until she agrees to marry him.
Johnny: "Now I've asked you forty different ways and it's time you come up with a fresh answer."
Andrew & Melanie- Sweet Home Alabama. [.]
Andrew surprises Melanie by sneaking her into Tiffany's late at night and telling her to...
Andrew: "Pick one..."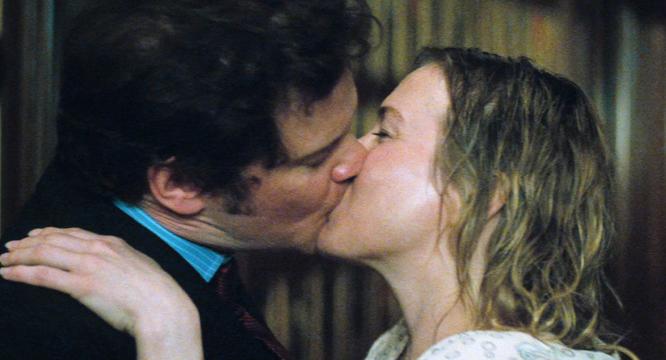 Mark & Bridget - Bridget Jones: The Edge of Reason. [.]
Bridget rewinds from her earlier blunder of screwing up the proposal and finally Mark asks the big question, she then runs to him all soaked from the rain and they embrace.
Mark: "Bridget Jones, will you marry me?"
Jack & Lucy - While you were Sleeping [.]
Jack (with his family in tow) shows up at Lucy's token booth and casually drops a ring through the slot. So simple, so cute!
Jack: "I need to ask ya a question..."
Mr. Darcy & Elizabeth Bennett - Pride & Prejudice [.]
(Mr. Darcy's second, humbler try!) For me, it's all about the speech - here is the short version!!
Mr. Darcy: "You must know ...surely you must know it was all for you. You are too generous to trifle with me. My affections and wishes have not changed, but one word from you will silence me forever. If, however, your feelings have changed, I will have to tell you: You have bewitched me, body and soul, and I love, I love, I love you. I never wish to be parted from you from this day on."
What is your favourite Movie Proposal?
How would you like to be proposed to? Or how would you like to propose to someone?