I wrote this post months ago and have only just had the chance to post it! I loved every bit of it!


WARNING: Contains spoilers.
Recently, after watching Barney propose to Robin on
How I Met Your Mother
(finallllly!) I've been thinking about my favourite proposals on the small and big screen and I thought it would be a really cute post! I don't know anyone with exaggerated and over the top stories of how they proposed or were proposed to, so my TV will have to do! I'll start with favourite Television proposals, check back next week for Favourite movie proposals!
I'm more of an understated and simple gal, as my picks will tell...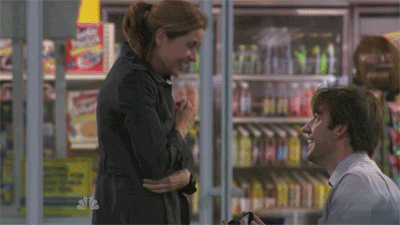 Jim & Pam - The Office.
Jim meets Pam at a gas station and gets down on bended knee in the rain!
Jim: "I just couldn't wait..."
Michael & Holly - The Office. [.]
Michael takes Holly on a tour through the office and stops at various spots that are special to them. My fave part is when Holly opens the door to find all the employees in a row holding candles - so many feels!
Michael: "This is where I fell in love with you, and this is where I ask you to marry me."


Monica & Chandler -
FRIENDS.
[.]
Chandler tries to convince Monica that he's "not the marrying type" so that he can surprise her only to return home to find their place filled with candles and Monica on one knee!
Monica:
"You wanted it to be a surprise..."
Robert & Amy - Everybody Loves Raymond. [.]
Amy & Debra are leaving the theatre when suddenly police cars screech to a halt in front of them, an officer steps out and asks Amy to identify herself, followed by Robert in his full dress uniform.
Robert: "I'm ready to be happy."
Matthew & Mary - D
ownton Abbey.
[.]
After
finally
confessing their feelings for each other Matthew gets on bended knee
as snow starts to fall
awww.
Matthew: "Lady Mary Crawley, will you do me the honour of becoming my wife?"
Barney & Robin - How I Met Your Mother. [.]
When Robin reaches the rooftop she finds candles and the final page to Barney's Playbook, with one last play - The Robin - his final play to win Robin.
Barney: "Robin Sherbatsky, will you marry me?"
Honourable mentions:
Mike & Phoebe -
FRIENDS.
After several failed attempts at proposing to each other Mike finally pops the question at a restaurant.
Dwight & Angela
- The Office.
!!!!!!!!!
Dwight pulls out his police siren, pulls Angela over and shouts his love for her through a bullhorn!
Ray & Debra -
Everybody Loves Raymond.
Ray writes it in his column in the paper and his Dad accidentally blurts it out!
Homer & Marge -
The Simpsons.
After finding out Marge is pregnant and realising he could never do better he writes his proposal on a card and Marge finds it and reads it aloud and, of course, accepts.
Do you have a cute proposal story? What are your favourite TV proposals?
How would you like to be proposed to or how would you like to propose to someone?
Let me know, I'm so curious! Xx