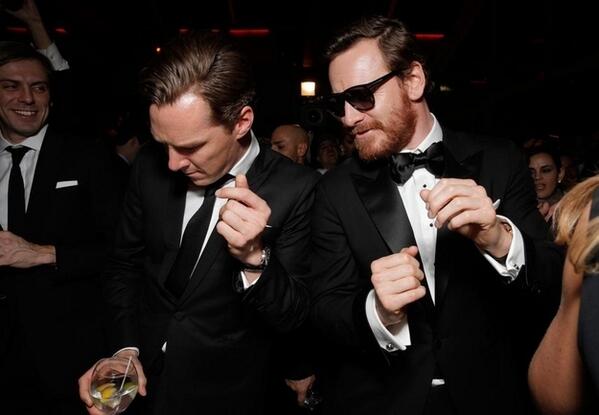 via
I loooove this picture of Benedict Cumberbatch and Michael Fassbender dancing to Blurred Lines at a Golden Globes after party. I think I look at it at least once a day! I'm not keen on Fassy with a beard though!
It bothers me when parents talk to their little kids like they are adults.
How come in like every single book ever the weird awkward girl gets the hot popular guy, like this is not how real life works.
I wonder if anyone notices that I only wear like three pairs of pants.
I love it when prawn crackers stick to my lips. Yeah, I'm weird. Even weirder is that I don't like prawns but I love prawn crackers. And prawn cocktail flavoured crisps.
My best friend and I have a movie night once a month. We take it in turns for who hosts it and picks the movies. This month was my turn, I chose Tangled and Aladdin!
Don't text me with spelling errors.
The only place that I go to without wearing make up is the Library.
I have milkshake dates with my Gran at least twice a month!
Awkward moment when Dad and I are in the car and 'I Want Your Sex' comes on the radio. Even worse when he turns it up and bops along. I get weirded out when things like this happen.
I hope your January has been fabulous, roll on February!
xx